Clayton Chiropractic is your natural treatment center when looking for neck pain relief. Our Clayton chiropractor, Dr. Karel Lloyd, diagnoses your neck pain and then develops a chiropractic care plan that uses a variety of holistic treatments. Our health staff knows that when your neck is in pain, this pain limits your ability to concentrate fully, sleep well and enjoy leisure activities. We hope that by answering some of the most common neck pain questions, you will turn to us for quick, effective and lasting relief.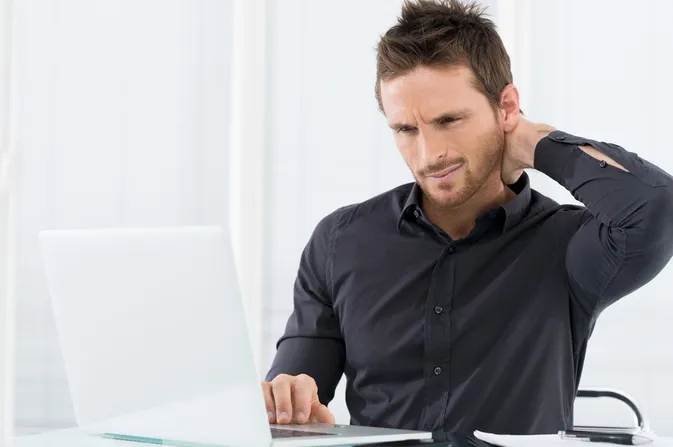 What is Neck Pain?
You may experience neck pain following an accident or injury or you may wake up with it. Along with pain that may be on one side, along the back or on both sides of your neck, you may also experience limited head-turning ability. The neck pain may also flow into a headache depending on the reasons for the pain. The pain is typically the result of compressed nerves, trauma to the soft tissues or issues with the discs in your neck.
What Causes Neck Pain?
Your neck contains the top portion of your spine so it is made up of vertebrae, discs, nerves, muscles, ligaments and tendons. Neck pain is caused by damage to one of these areas or a misalignment of the spine which places the vertebrae or disc against a nerve. Sometimes, neck pain is the result of years of poor posture in which you have created an imbalance in muscle strength or have pushed the vertebrae out of alignment. Other causes of neck pain include:
Injuries- an auto accident, sports or work injury may lead to pain in your neck. For example, you may be suffering from whiplash following a collision, pain in your neck from a concussion or pain from repetitive motions.
Herniated disc
Chronic conditions such as fibromyalgia or arthritis
Spinal stenosis which is a narrowing of the spinal column canal
Degenerating discs
How does one Alleviate Clayton Neck Pain?
Most often, you reach for a pain-reducing medication or try to tough it out. You may also limit your activities until the pain is gone. The body has an amazing ability to heal itself, but you do not have to resort to medications or living in pain. Our neck pain treatments show you another way.
How Can Clayton Chiropractic Help with Neck Pain?
Dr. Lloyd uses natural remedies to alleviate your neck pain. Our chiropractor uses gentle spinal adjustments to position the vertebrae to eliminate nerve pressure and allow herniated discs to heal. We also show you lifestyle changes to keep your neck in a healthy alignment and exercises to strengthen and stretch your neck muscles.
Contact us Today If You are Seeking Relief from Neck Pain in Clayton!
Clayton Chiropractic delivers effective relief from neck pain in Clayton. Our chiropractor evaluates your condition to determine the exact source of the pain and then provides immediate and lasting relief. We offer free consultations for new patients, so please call us today at 919-553-2225.