Clayton Auto Accident Injury Treatment
Auto accident injuries should be evaluated and treated quickly after the incident. If you have been in a car accident, Dr. Karel Lloyd invites you to visit Clayton Chiropractic as soon as possible even though you may not feel pain immediately.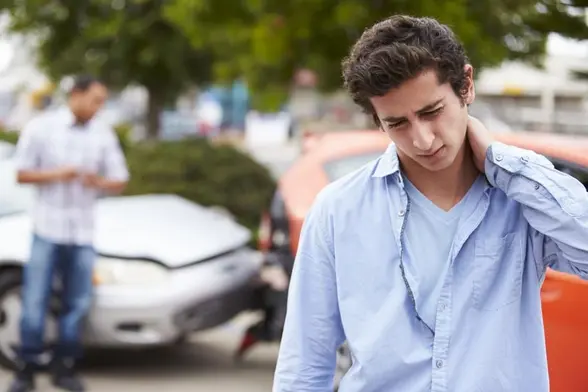 Our friendly staff and chiropractor will evaluate your condition or pain to determine the extent of your injuries. We formulate a chiropractic care plan that includes relief for neck pain, car seat belt injury pain, back pain and headaches. Dr. Karel Lloyd stresses that fast treatment is necessary to reduce your risk for permanent injuries or injuries that have a lengthy recovery time. Even small fender-benders can jar your body and throw joints, your neck or back out of alignment. Let Dr. Karel Lloyd examine your spine and joints for any variations and quickly place your body into a healthy position.
Whiplash Treatment in Clayton
One of the most common auto accident injuries is whiplash. Whiplash occurs when your head forcefully moves backward and forward. The vertebrae and soft tissues in your neck are stretched and moved out of position during an auto accident. Symptoms that may indicate you have suffered whiplash include:
Neck pain

Upper Back pain

Headaches

Vision difficulties

Dizziness

Inability to turn neck

Fatigue

Irritability
These symptoms and more may be the result of whiplash. If you were rear-ended and your head moved quickly, please contact Clayton Chiropractic immediately for effective treatment options. Our chiropractor will gently reposition your neck and back to reduce pain and the compression of nerves. We may also use kinesiology taping to support your neck and upper back as you heal. The stretchy tape can be worn for days at a time and we place it in a position to reduce your discomfort. The tape stimulates circulation to and from the injury. Your body sends healing nutrients to the cells and removes waste products that contribute to your pain.
Car Seat Belt Injury
During an accident, your seat belt may place pressure on your body. If you feel the impact of the seat belt on your shoulder, hip, neck or chest, visit us for a thorough evaluation. Our chiropractor adjusts your hips, neck, and shoulders to alleviate your pain and speed healing. Our friendly health team shows you exercises to stretch these sensitive areas to reduce the chances of scar tissue formation. We also show you exercises to strengthen your muscles to support your healing process.
How Can Our Clayton Chiropractor Help You?
Our Clayton Chiropractor offers treatments for auto accident injuries that are safe, natural, effective and provide immediate pain reduction. Your body may require a series of adjustments to fully heal from your injuries. It is important to seek care as quickly as possible after a car accident to ensure your body will heal appropriately. We do not want you to have lasting pain or other side effects from an accident. New patients receive a free consultation. Call us today to schedule an appointment!