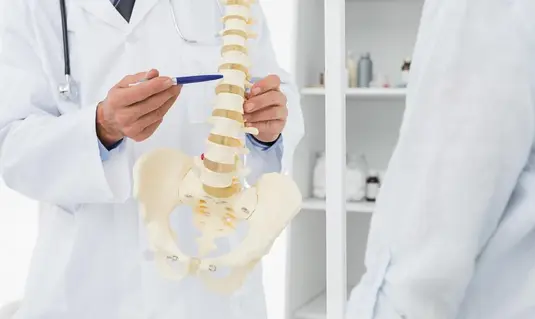 Clayton Chiropractic is your resource for natural, effective healing. We can treat such diverse conditions as:
Back Pain - Back pain may be caused by degenerative disc disease, an acute injury, or muscle strain due to spinal misalignment. We can combine chiropractic adjustment with corrective exercises and other therapies to help you overcome your back pain.

Neck Pain - Neck pain may take the form of whiplash from a car accident injury, a bulging or herniated disc in the cervical spine or muscle strain from non-ergonomic head positioning. We can prescribe adjustments, exercises and lifestyle changes to relieve and prevent neck pain.

Headaches - Tension headaches occur when stiff, tense muscles pull on sensitive membranes at the base of the skull, relaying pain signals to the head. Upper cervical adjustments can relieve the imbalances that promote chronic muscle tension.

Migraines - Migraines stem from brain chemistry imbalances that cause the trigeminal nerve to create intense pain, visual/aural symptoms, nausea and vomiting. Chiropractic adjustment can help normalize nerve function, while our nutritional counseling can help you steer clear of migraine-triggering foods.

Cervical Radiculopathy - Cervical radiculopathy causes pain, tingling or numbness in the hands and arms. Chiropractic adjustments to the cervical spine can free trapped nerve tissue, relieving these symptoms.

Sciatica - When the sciatic nerve becomes pinched, you may experience sciatica symptoms such as leg pain, back pain, and tingling or numbness in the feet. Chiropractic adjustment can shift spinal structures away from nerve tissue and reduce muscle spasms.

Sprains and Strains - We can treat sprains and strains through fascial movement taping, corrective exercises, nutritional guidance and chiropractic adjustments to improve your musculoskeletal balance.

Systemic Disorders - Faulty nerve signaling contributes to everything from chronic fatigue to digestive disorders. Spinal adjustments, nutritional support, exercise and other therapies can help your body operate at 100 percent again.

Athletic Injury - An athletic injury can impair your sports performance or even take you out of the game completely. Our chiropractic team can devise a holistic sports injury program just for you, from spinal adjustments to fascial movement taping, so you can regain your ability and strengthen yourself against future sports injury issues.

Car Accident Injury - Whiplash, sciatica, seat belt injuries and other types of car accident injury can be highly debilitating. We can perform immediate evaluations to diagnose a car accident injury and then prescribe both acute pain relief and long-term rehabilitation.

Work Injury - A work injury can make it impossible for you to do your job and support your family. Our team can create an integrated healing and rehabilitation program to help you get better and get back to work.
Clayton, Four Oaks, Smithfield, Wendell and Garner Residents: Get Your Condition Treated Here
If you're in Clayton, Four Oaks, Smithfield, Wendell or Garner and you seek relief from these or other conditions, it's time to visit Clayton Chiropractic. Call us today for an appointment. We look forward to helping you!